MUSIC | ART | SOUND | VISION
PHREAK MUSIC
"It's all sound, it's all vision, it's filling your head full of music and sound…"
— Peter Wagg, Producer, 'Max Headroom'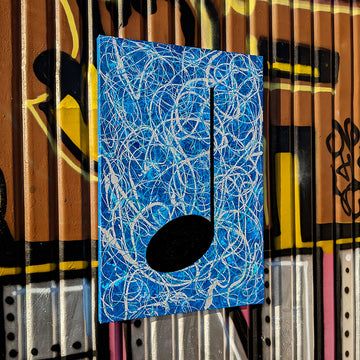 MUSIC GRAFFITI
SOUND & VISION
MUSIC GRAFFITI is a series of original physical paintings exploring the feedback creation loop and phase space transformation between Sound & Vision, Music & Art and Physical/Digital dimensions.
Each painting represents the interpretation and transformation of a musical idea or thought into a visual concept.
Beyond this initial transformation the paintings are also the genesis node of a feedback creation loop that produces the sonic building blocks that are then assembled into PHREAK MUSIC,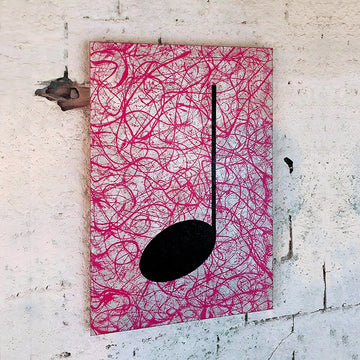 SONIC VISUAL PATTERNS
PHREAK MUSIC - WTF?
The naming convention for each individual MUSIC GRAFFITI painting is one of the 24 (standard western) musical keys, plus a number. For example, 'D Minor III' is the third MUSIC GRAFFITI painting in the key of D Minor.
The key for each painting is selected by scanning the background pattern through a combination of visual synthesizers, and selecting the key that produces a sound that best complements the visual effect. Essentially, the paintings produce their own 'music' and the choice of key is then determined by the sound produced.
This secondary transformation across the audio-visual border is part of a process called 'FEEDBACK LOOPS'. The audio stems generated in this process form the base elements of an audiovisual digital soundscape that accompanies and complements the physical work.
DO ANDROIDS DREAM OF ELECTRIC NOISE?
PLAY THAT PHREAKY MUSIC
The audio stems generated in the process of identifying the key signature for a specific painting are mixed initially into short-burst 'Phreak Loops'.
These Phreak Loops are the foundational building blocks that can be extended into a multi-layered longer-form "PHREAK MUSIC" track in the same key as the original painting.
Essentially, the image from the painting acts as both a key signal and an interpretive graphic score.
The term PHREAK MUSIC is a nod to the call sign of the original 'Phreaker' pre-web phone hackers that the initial sounds are reminiscent of.
PHREAK BOX
Put another dime in the PHREAK BOX baby...
The short-burst tracks below were created by scanning the original MUSIC GRAFFITI paintings through a number of visual synthesizers to create foundational audio stems. The stems are then used as foundational blocks in building secondary elements of Phreak Loops and Phreak Beats that are then used as the basis of full PHREAK MUSIC tracks.
D MINOR III - PHREAKOUT #1
B MAJOR I - PHREAKBEAT GOLD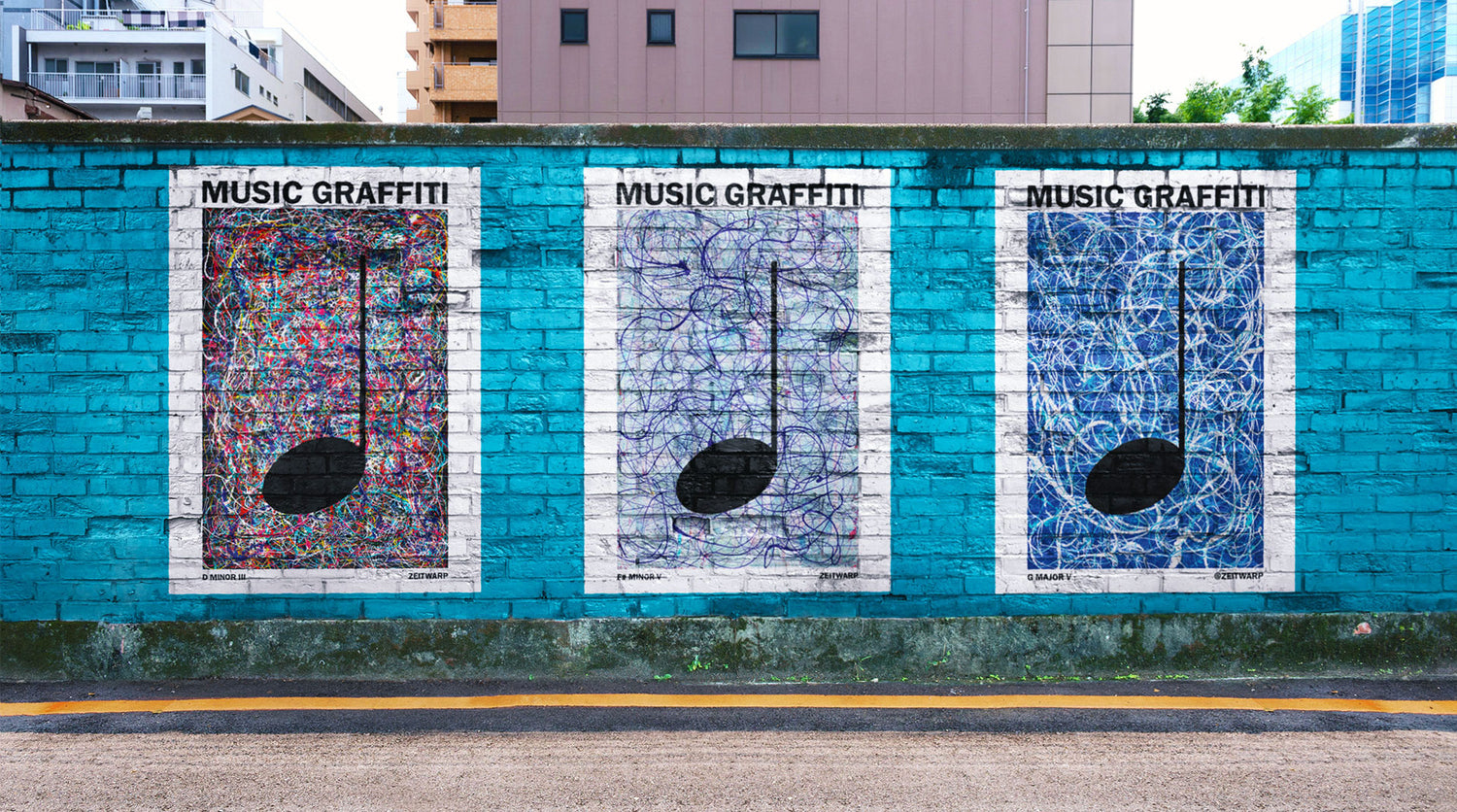 OPEN REEL GICLÉE AND ART PRINTS
If you can't wait for a New Art Friday drop then the Open Reel selection of MUSIC GRAFFITI fine art Giclée Prints and designer Art Prints are available in the HYPERMARKET with Free Shipping to over 50 countries.
10% of the purchase price from every print will be donated to the MUSIC GRAFFITI Tip Jar program to support emerging musicians.