ANTI-SOCIAL MEDIA
SLAVE TO THE 'RITHM
"Whether we like it or not, everybody is living in an attention economy now..."
ZEITWARP - INTERVIEW 2022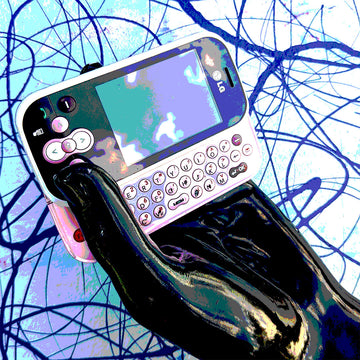 NEVER STOP THE ACTION | KEEP IT UP, KEEP IT UP
WORK TO THE 'RITHM
"It is the consumer who is consumed...You are the end product."
"Television Delivers People" | Richard Sera,1973
This quote has evolved to become (another) Mandela-effect paraphrase/misquote along the lines of "If the product is free, then you are the product".
Irrespective of the provenance the sentiment remains consistent, Sera was originally talking about the more passive dynamic of television advertising. By comparison, in Web2 social media the 'opportunity' exists to broadcast yourself and share in the rewards.
However, with the algorithms rewarding engagement and "time on platform", and in an economy where attention is an almost fundamental requirement, it's easy to become committed to a hamster wheel existence.
CHOOSE LIFE
"Choose sitting on that couch watching mind-numbing sprit-crushing game shows"
Zeitwarp is on social media...but I only use it for sporadic 'broadcasting' rather than daily engagement farming. So -unsurprisingly - there are no large follower accounts (except for the one slowly dwindling in the post-Elon era on Twitter X).
I use the different platforms on an ad-hoc basis for different purposes. There is some detail below on each, and a link to the profile. Caveat emptor etc.