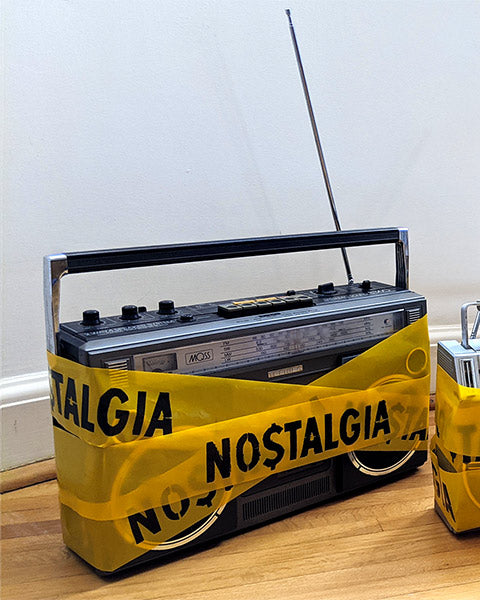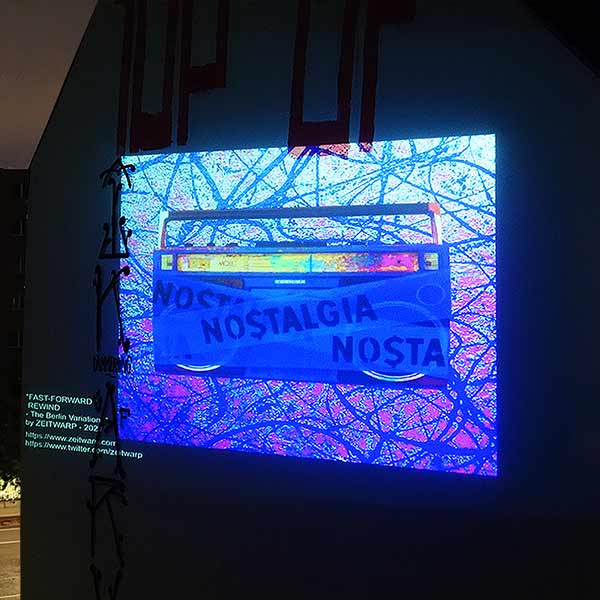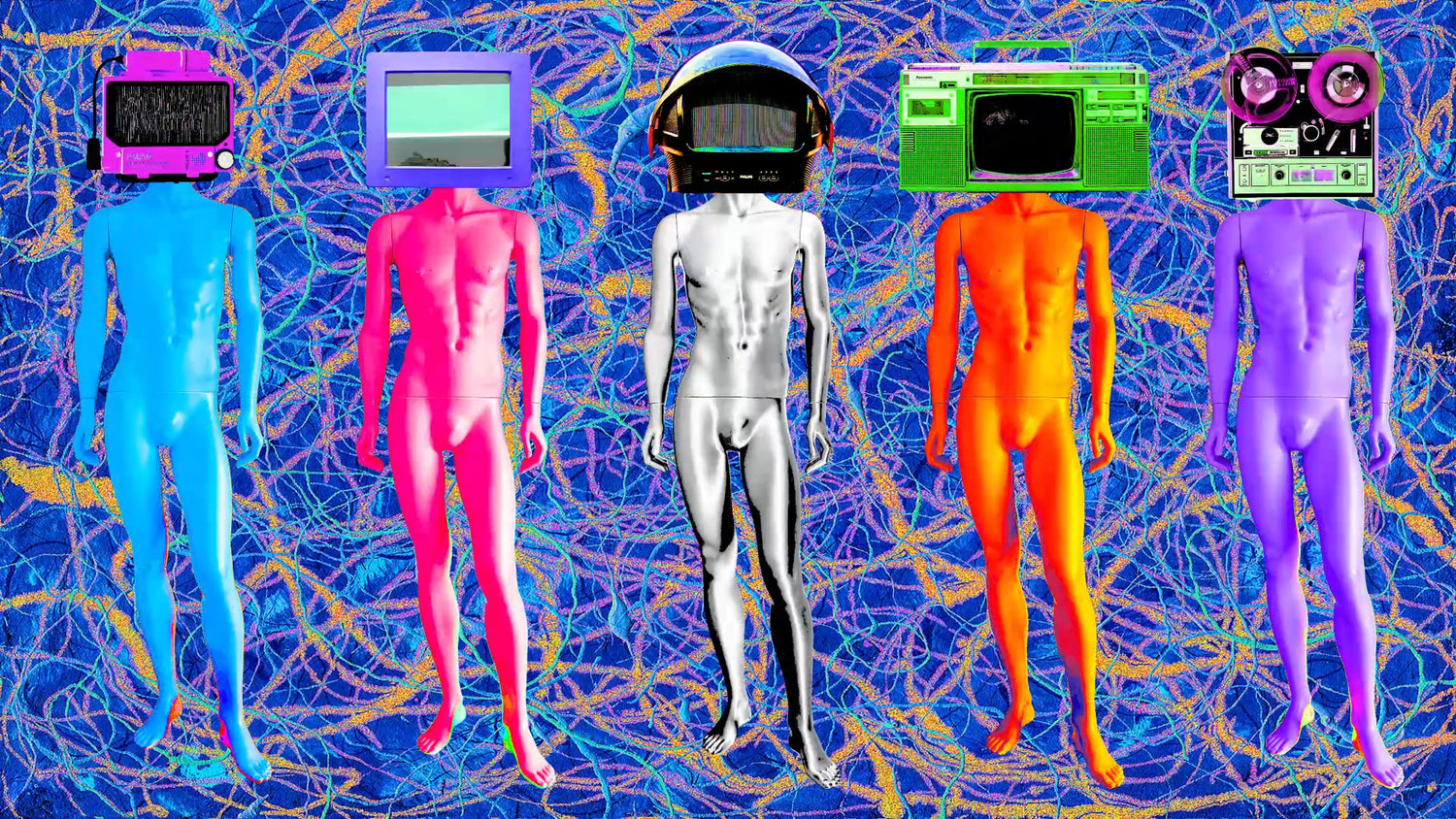 CONCEPTUAL DIGITAL ART | INSTALLATIONS | LIMITED EDITION PRINTS | AR
THE NO$TALGIA SHOW
"The idea concerns the fact that this country wants nostalgia. They want to go back as far as they can - even if it's only as far as last week. Not to face now or tomorrow, but to face backwards."
GIL-SCOTT HERON - "B-Movie"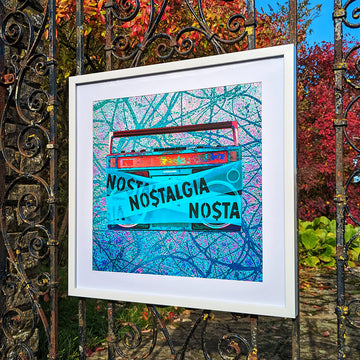 BACK TO THE FUTURE
THE NO$TALGIA SHOW
'The NO$TALGIA SHOW' is a long-term series of physical and digital artworks examining Transience, Obsolescence, Transformation, Retro-Utopianism and the Nostalgia/NO$TALGIA phenomenon.
The conceptual thread of The NO$TALGIA SHOW is that the emergence of nostalgia as a fully commoditised cultural phenomenon has ripple effects that reverberate - both subjectively & objectively - through culture, society and politics.
Artworks include installation, digital art, audiovisual video collage and augmented reality enabled giclée prints.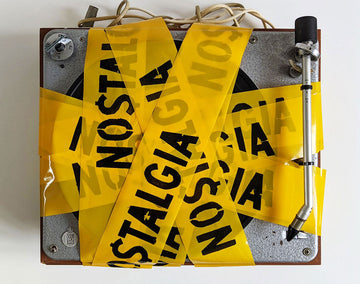 NO$TALGIA INSTALLATION
CRIME SCENES
CRIME SCENES was the genesis physical installation & exhibition of pieces from The NO$TALGIA SHOW.
Pieces of iconic audiovisual equipment were wrapped in custom hand-printed yellow hazard tape bearing the stencilled warning slogan "NO$TALGIA".
The installation ran for four weeks as a fringe event in parallel with Cambridge Open Studios, July 2019.
Selected photographs of the CRIME SCENES exhibits were the key components for a series of digital audiovisual artworks that evolved into the nexus of The NO$TALGIA SHOW series.
AR ENABLED LTD EDITION GICLÉE PRINTS
THIRTY FRAMES A SECOND
Fine Art giclée prints of the NO$TALGIA SHOW digital artworks will be released in numbered limited editions of 24.
The prints are AR enabled with an individual audiovisual digital remix that is activated in augmented reality.
Printing is fulfilled by a specialist fine art print lab using archival ink on Hahnemühle 310gsm fine art paper.
Each one comes with Certificate of Authenticity and an artist statement explaining more about the work.
NO$TALGIA SHOW giclée prints will only be available to purchase from selected gallery partners and fine art platforms.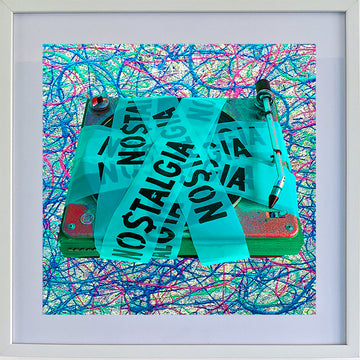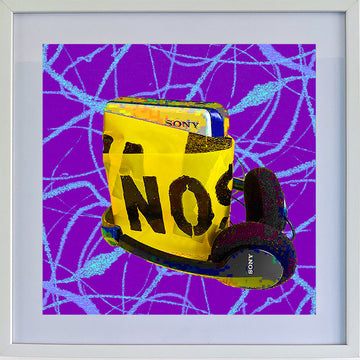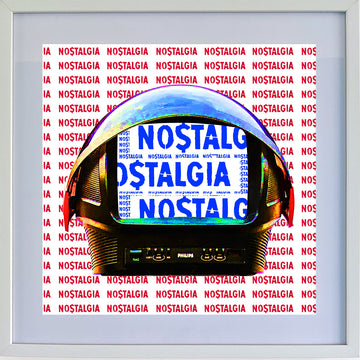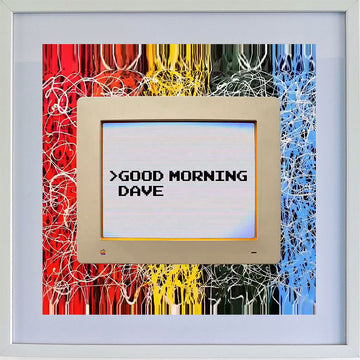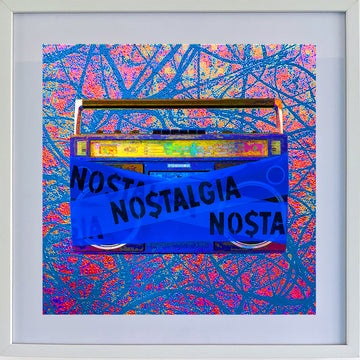 CONCEPTUAL DIGITAL ART
FAST-FORWARD / REWIND
'FAST-FORWARD / REWIND' is one of the central pieces of the 'NO$TALGIA SHOW' series. It has been displayed in various forms at a number of international exhibitions - both physically and virtually.
​Conceived originally as a​ dynamic audiovisual ​'collage'​, it ​​has evolved into a multisensory artwork​ with both physical and digital forms linked together in augmented reality.
The piece features a key exhibit from the CRIME SCENES installation juxtaposed against the sonic visual pattern of a MUSIC GRAFFITI painting.
A 'PHREAK MUSIC' soundtrack accompanies the original video artwork. This soundscape is generated through a feedback creativity loop by scanning the original (background) painting through a series of visual synthesizers to create sonic stems that are then mixed into one track.
FUTURE SHOCK
The video artworks within The NO$TALGIA SHOW are collages of physical objects that have undergone a number of digital transformations.
The creation of fine art giclée prints returns these digital artworks back to physical form. The circle is then completed by adding the digital artwork as an augmented reality layer to the prints, with the video remix accessible through the Artivive AR smartphone app.
TRANSIENCE | OBSOLESCENCE | TRANSFORMATION | NOSTALGIA
ARRESTED DEVELOPMENT
"Everyone has got to realise you can't hold onto the past if you want any future.
Each second should lead to the next one."
JOE STRUMMER
WARNING - NOSTALGIA AHEAD
FUTURE NO$TALGIA
The NO$TALGIA SHOW as a concept has evolved beyond its origins as a digital extension of the CRIME SCENES exhibition to include an expanded body of digital artworks that adapt the underlying conceptual thesis to a broader range of subject matter.
The fulcrum that links these works remains the juxtaposition of technological futurism with a cultural fascination for the retrograde. The purpose of highlighting this paradox continues to be the reverberations that ripple out of the conflict between nostalgia and forward progress into culture, society, politics and philosophy/religion.
As with the original MP4 artworks in The NO$TALGIA SHOW, these extended pieces feature a collage of physical items manipulated into digital forms.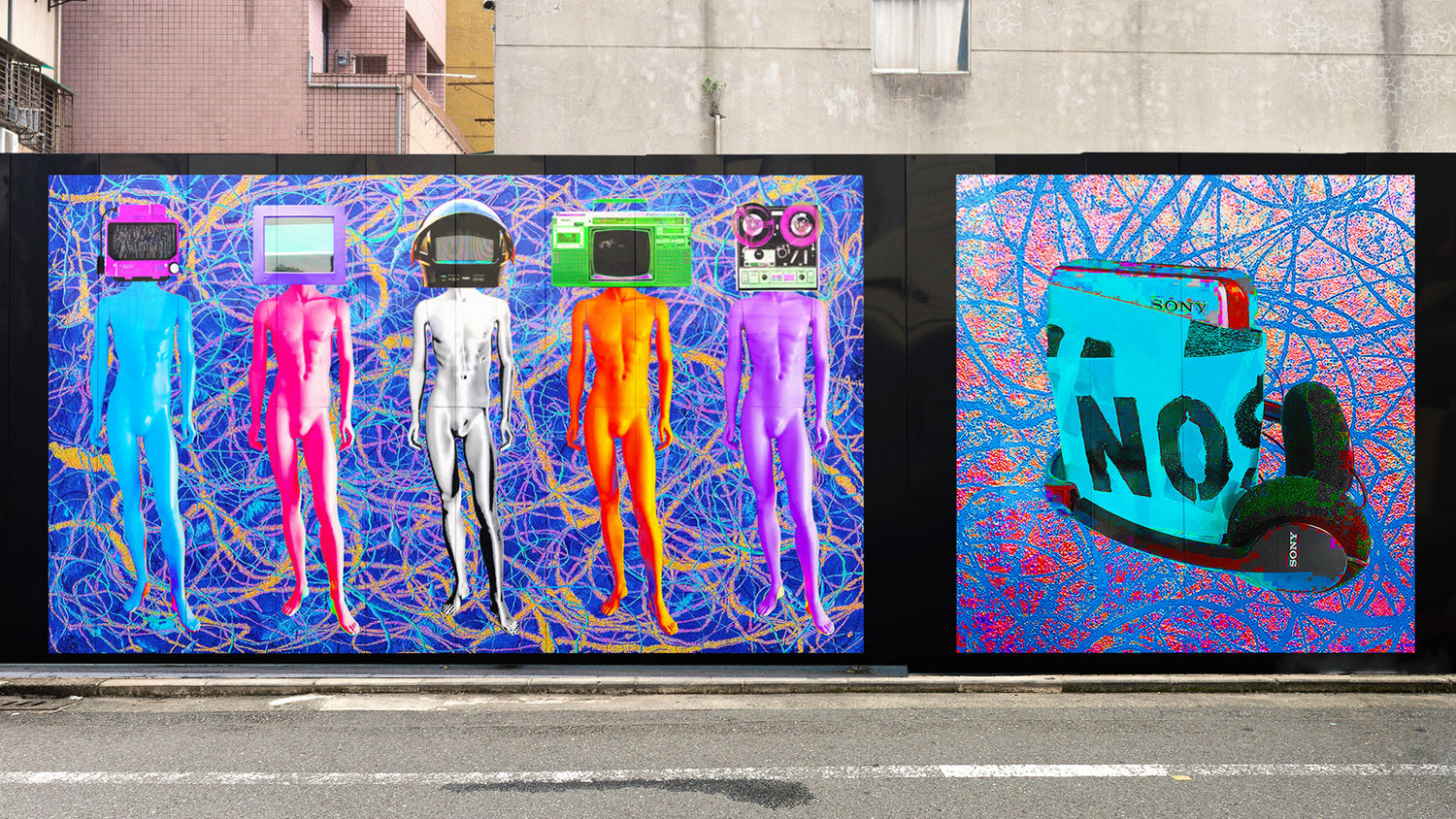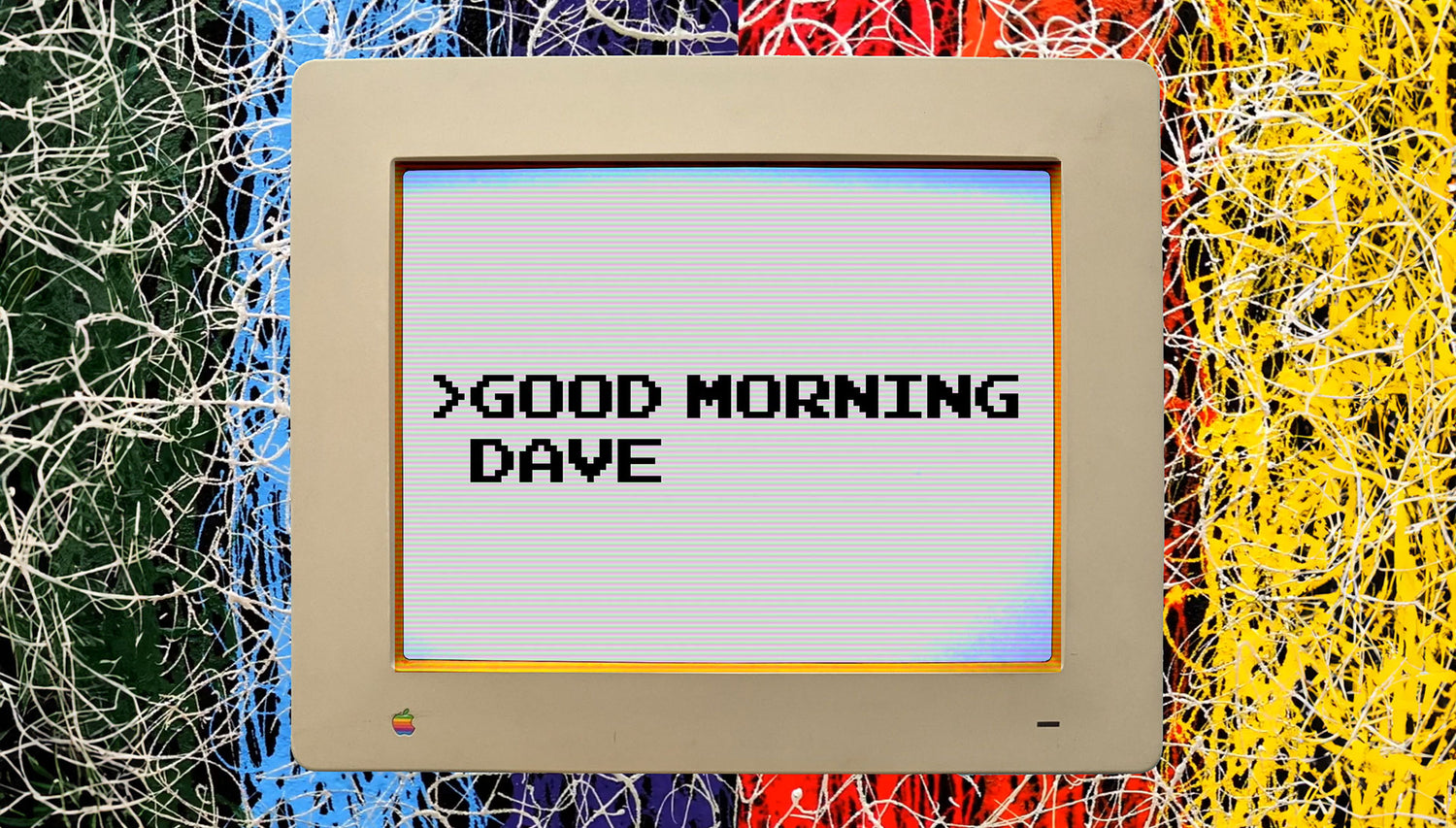 NOSTALGIA SHOW EXHIBITIONS | IRL | VIRTUAL | METAVERSE
EXHIBIT A
Pieces from the The NO$TALGIA SHOW have been featured in a wide range of both IRL and virtual exhibitions.