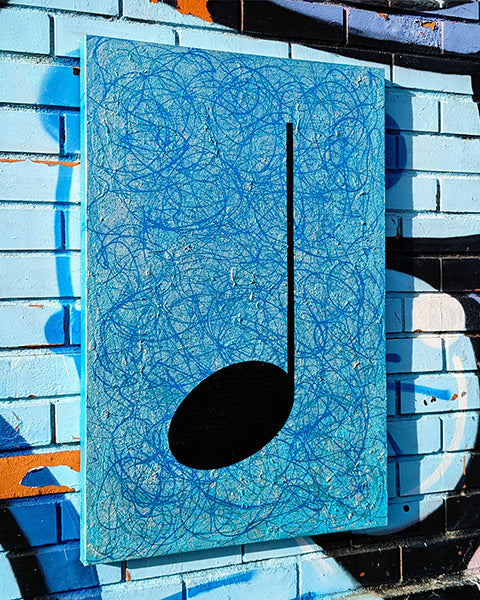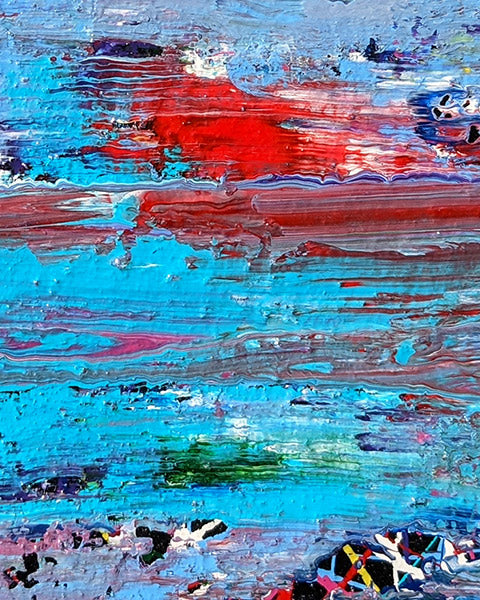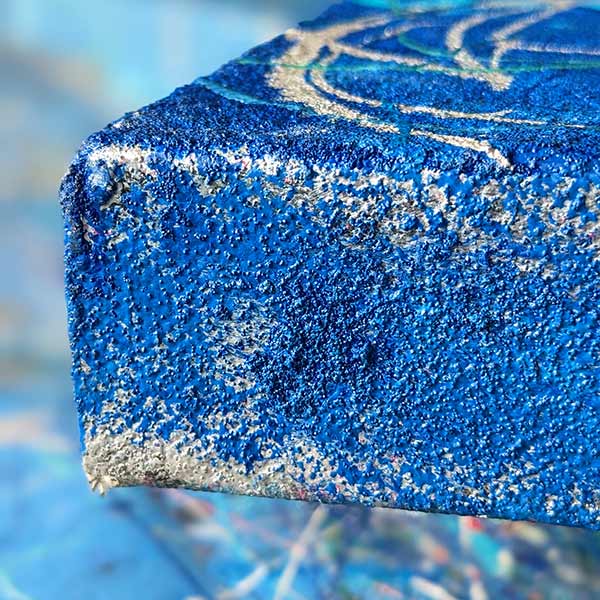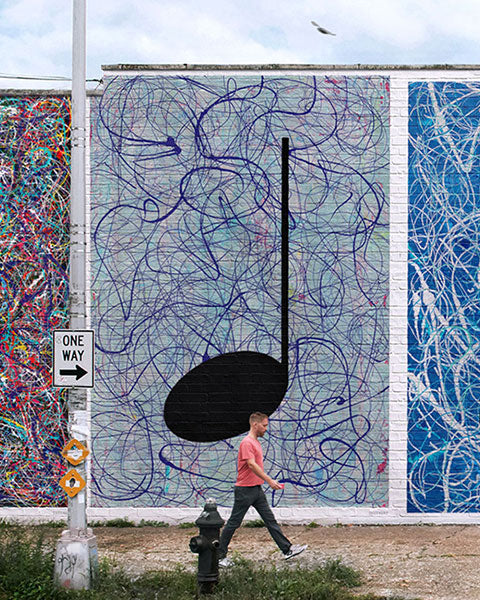 ORIGINAL PAINTINGS | PRINTS | PHREAK MUSIC | SOUND ART | STREET ART
MUSIC GRAFFITI
"DON'T YOU WONDER SOMETIMES…ABOUT SOUND AND VISION?"
'Sound & Vision' - David BOWIE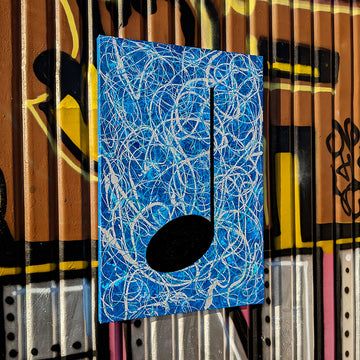 ORIGINAL MUSIC ART PAINTINGS
MUSIC GRAFFITI
MUSIC GRAFFITI is a series of original physical paintings exploring the feedback creation loop and phase space transformation between Sound & Vision, Music & Art and Physical/Digital dimensions.
Each painting represents the interpretation and transformation of a musical idea or thought into a visual concept.

The single large black music note is inspired by a first wave street art aesthetic, and acts functionally as an identifier and visual key to the concept. 
This is a music painting. There is more to experience here.
Beyond the initial transformation between audio and visual sensory forms, the paintings are also the genesis node of a feedback creation loop that encompasses sound & vision, music & art, original PHREAK MUSIC, physical/digital dimensions and augmented reality.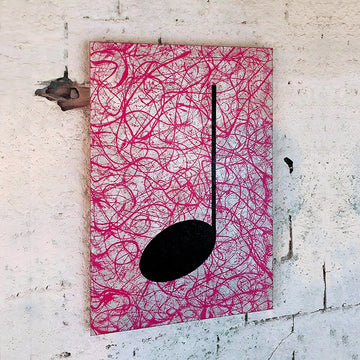 SONIC VISUAL PATTERNS
MUSIC GRAFFITI
The naming convention for each individual painting is one of the 24 (standard western) musical keys, plus a number. For example, 'D Minor III' is the third MUSIC GRAFFITI painting in the key of D Minor.
The key for each painting is selected by scanning the background pattern through a combination of visual synthesizers, and selecting the key that produces a sound that best complements the visual effect. Essentially, the paintings produce their own 'music' and the choice of key is then determined by the sound produced.
This secondary transformation across the audio-visual border is part of a process called 'FEEDBACK LOOPS'. The audio stems generated in this process form the base elements of a full soundscape for that painting.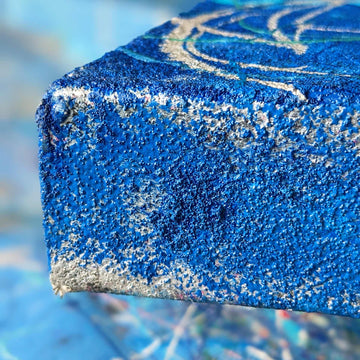 TEXTURED SONIC CANVAS
ARCHITECTURAL CANVAS
The MUSIC GRAFFITI paintings feature textured three dimensional 'architectural' surfaces.
These tactile background surfaces replicate and substitute for the physical 'wall canvas' that is typically associated with graffiti / street art.
The degree of texturisation varies across individual paintings and series of paintings. ,ranging from a light rendered effect to a rougher 'Béton Brut' style. The latter draws heavily on the influence of the 'pilotti' of Le Corbusier at 'Unité d'habitation' in Marseille.
The surface relief effect also offers a third dimension of sensory sound input within the FEEDBACK LOOP process.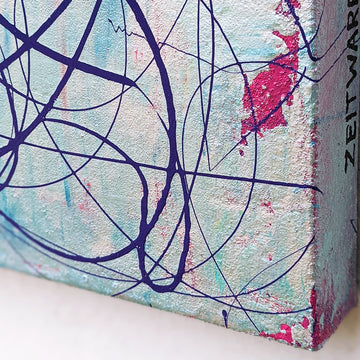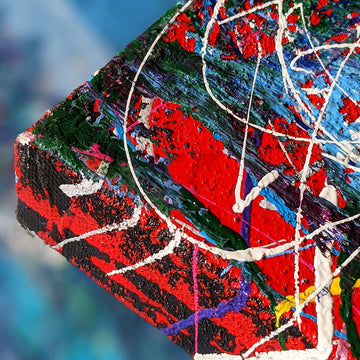 TOTALLY ADDICTED TO BASE 12
12 NOTES / 24 KEYS / 12 PAINTINGS / 24 PRINTS
To replicate the 12 standard notes, and 24 standard keys in (western) musical theory, only 12 MUSIC GRAFFITI paintings are created in any one year, with a limited edition of 24 fine art giclée prints reproduced from those 12 paintings.
Each painting comes with a letter of provenance.
All MUSIC GRAFFITI paintings have dimensions of approximately 61cm (W) x 91.5cm (H) x 3.8cm (D) - 24" (W) x 36" (H) x 1.5" (D)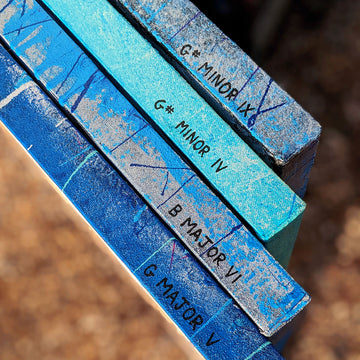 MUSIC | ART | SOUND | VISION
FEEDBACK LOOPS
"It's all sound, it's all vision, it's filling your head full of music and sound…"
— Peter Wagg, Producer, 'Max Headroom'
FEEDBACK LOOPS
The physical MUSIC GRAFFITI paintings are the 'genesis node' within a long-term creative process called FEEDBACK LOOPS.
The artistic premise behind the FEEDBACK LOOPS project is to start with a single visual symbol of music/sound - the MUSIC GRAFFITI paintings - and then to explore a sequence of recursive phase space transformations between the sensory spaces of Sound & Vision, Music & Art and physical/digital forms.
FEEDBACK LOOPS artworks include FRACTAL and/or FRACTURED GROOVE digital art MP4's PHREAK MUSIC soundscapes, audiovisual collages, augmented reality installations, etc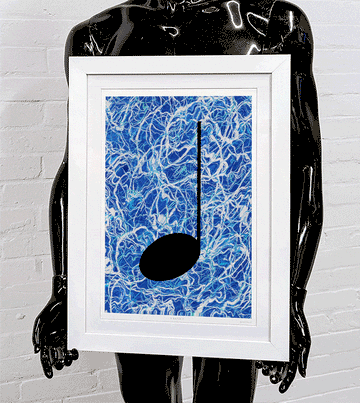 FRACTAL GROOVES
"Destroy a canvas and you make shapes" - Gustav Metzger
A key node within the FEEDBACK LOOPS process is the FRACTAL/FRACTURED GROOVE series of soundscape mixes.
The visual sonic pattern from the paintings are transformed into video and sound 'stems' that are then remixed to create a new audiovisual form.
The recursive cycle between physical/digital and sound/vision is completed by the inclusion of the audiovisual remix as an augmented reality (AR) layer to both the original MUSIC GRAFFITI painting and any/all reproductions of it.
PHREAK MUSIC
DO ANDROIDS DREAM OF ELECTRIC NOISE?
The sound stems produced by the original painting form the basis of a short burst soundscape which is then added as the soundtrack to each painting's FRACTAL/FRACTURED GROOVE video remix.
As part of the FEEDBACK LOOPS concept, these Blip-Beats are sometimes extended into multi-layered longer-form tracks in the same key as the original painting. Essentially, the image from the painting acts as both a key signal and an interpretive graphic score.
The short-burst track below was created by scanning the original MUSIC GRAFFITI painting 'B Minor II' through a number of visual synthesizers to create audio stems that were then manipulated and mixed with organic AI elements and then built up into one PHREAK MUSIC track.
The term PHREAK MUSIC is a nod to the call sign of the original 'Phreaker' pre-web phone hackers.
PLAY THAT PHREAKY MUSIC
There is more info on the PHREAK MUSIC process in the dedicated page in the MUSIC section
YOU HAD ME AT MUSIC GRAFFITI
SHOW ME THE MONEY
"Never mind all the weird stuff...how can I buy one?"
MUSIC GRAFFITI OWNER - July 2021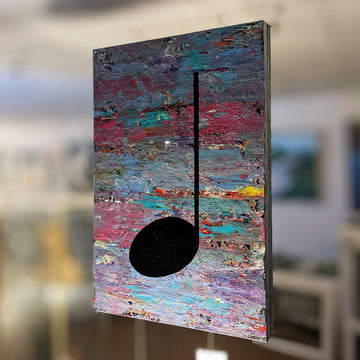 WHERE TO BUY
SHUT UP & TAKE MY MONEY
Only 12 MUSIC GRAFFITI paintings are created each year.
From 2023 onward these will now only be available to collect either through a small number of partner galleries, or through the the 'Backstage Pass' program for design professionals.
Fine art giclée prints taken from each painting are available from specialist print galleries in limited editions of 24.
Open Reel Art prints - that feature a selection of open edition MUSIC GRAFFITI images - are available from a small number of poster print galleries.
More info on the print options and editions is below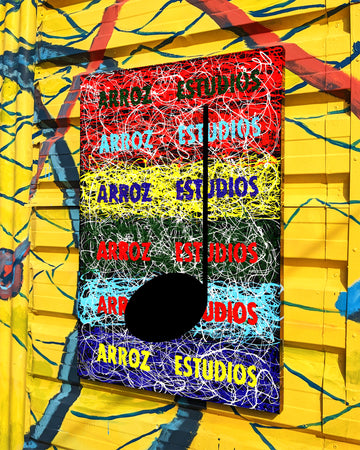 BUY ART | SUPPORT MUSIC
P-ARTNERSHIPS
A key dimension of the MUSIC GRAFFITI series is an experiment in cyclical transformations between audio and visual forms. This interrelationship between Sound and Vision, Music and Art continues beyond the artworks themselves in a number of ways
Ten percent of the sale price of every original MUSIC GRAFFITI painting is donated to a cause that either directly supports musicians or music projects.

In addition, each year a partner organisation - involved in supporting either music or art - is chosen to be the beneficiary of an honorary 13th MUSIC GRAFFITI painting. The painting is donated to the organisation along with the commercial rights to the image. The partner organisation can then either auction the painting or sell prints from it or keep it for display.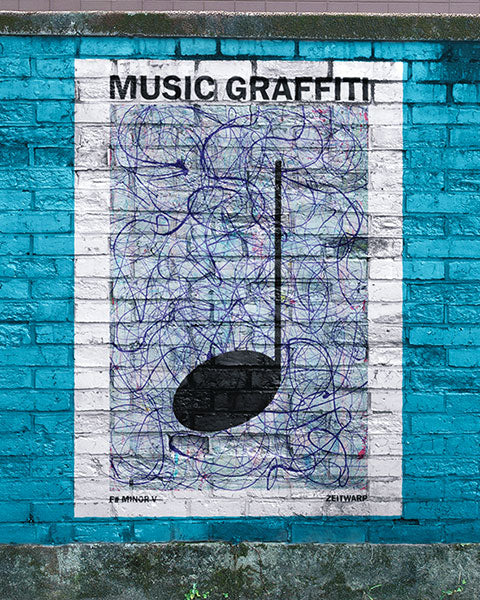 FINE ART MUSIC GRAFFITI GICLÉE PRINTS & ART PRINTS
PRINTS...AND THE REVOLUTION
"Well I'm here looking through an old picture frame….Just waiting for the perfect view"
'Editions of You' - ROXY MUSIC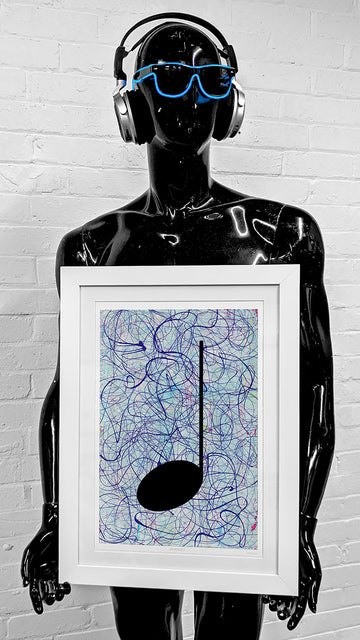 LIMITED EDITON GICLÉE PRINTS
EDITIONS OF YOU
Fine art museum quality giclée prints of the MUSIC GRAFFITI paintings are released in limited editions of 24 per original painting.
Printing is undertaken by a specialist professional print lab using archival ink on specialist Hahnemühle 310gsm fine art paper.
The giclée process produces the highest quality reproduction of the original image with archival longevity.
Texture is a key component of the original paintings. The layers of paint and architectural / masonry elements produces a tactile three dimensional surface that adds a further layer to the visual sonic schema. The use of giclée methodology and textured fine art paper produces a depth to the printed image that emulates the originals.
Each print is numbered and signed, and comes with a certificate of authenticity.
As with the original paintings, the prints can be activated in augmented reality to display the accompanying digital audiovisual artwork.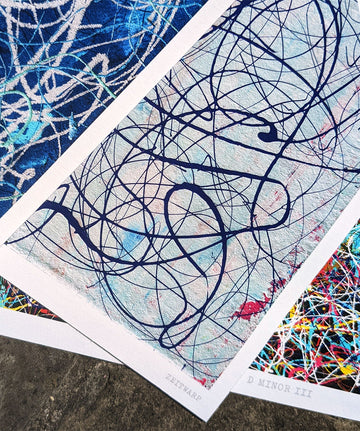 MUSIC GRAFFITI | UNLIMITED EDITION
OPEN REELS
"Unlimited edition...With an unlimited supply" - E.M.I. Sex Pistols
'Open Reels' is a limited selection of MUSIC GRAFFITI images that are available as open edition design Art Prints and fine art Giclée Prints.
The images are taken from an exclusive series of MUSIC GRAFFITI paintings that have never been released as a limited edition giclée print.
The Open Reel giclée editions are printed using the same high quality process and materials as the limited edition fine art MUSIC GRAFFITI giclée prints. However they are not limited to a specific number of editions, and are not hand signed.
Each Open Reel MUSIC GRAFFITI image has an accompanying FRACTAL or FRACTURED GROOVE audiovisual remix that can be activated by viewing the print in augmented reality.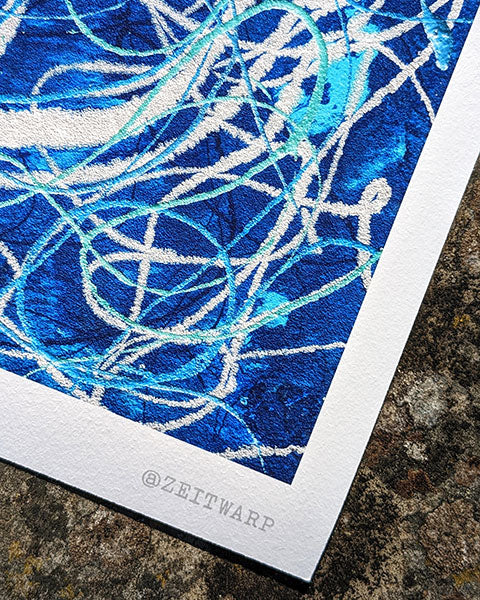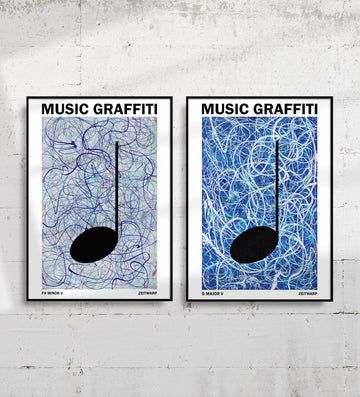 MUSIC GRAFFITI ART PRINTS
ART PRINTS
The Open Reel selection of MUSIC GRAFFITI images are also available as Art Prints.
T​he​ design for the prints was originally created for the MUSIC GRAFFITI exhibition at Arroz Estúdios in Lisbon, in September 2022. ​
The prints are produced on a high quality art poster paper with matt lamination. They are available in a choice of sizes from partner galleries.
As with the original paintings and fine art giclée reproductions, the prints can be activated in augmented reality to display the accompanying digital audiovisual artwork.