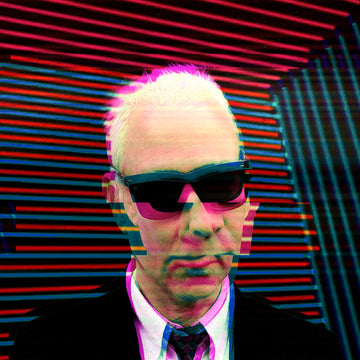 ZEITWARP | WTF?
DISCOGRAPHY
ZEITWARP Studios is a one person multidisciplinary creative practice near Cambridge (UK), producing paintings, digital art, music/sound, physical installations, sculpture and sporadic design pieces.
My name is Dan and ZEITWARP has been a creative outlet for almost three decades. More sideshow than side hustle.
During a fluctuating and varied career journey, the ideas and output that represent the ZEITWARP concept continued to develop in an inverse relationship with any definition of a conventional vocation. or career.
Eventually, it took over completely.
This was probably always going to happen.
"I think ageing is an extraordinary process whereby you become the person you always should have been."
DAVID BOWIE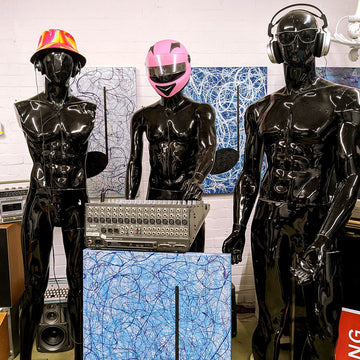 OUTSIDER ART | ART BRUT | GARAGE ART
GARAGE ART
"We're a Garage Band...We come from Garageland " - THE CLASH
Given the lack of any kind of formal art training, everything that I produce would be categorised as 'outsider art' or perhaps more accurately "art brut" (raw art) by the art establishment.
I prefer the term 'Garage Art'.
Given that The Clash were talking about being critically dismissed for lacking formal music technique, 'Garage Art' perhaps captures the essence of being outside of a formal art establishment that values three years of art school over three decades of thinking about the nature of existence in an aesthetic sensory fashion.
Although I also work out of a (nice) garage studio, Garage Art is intended more as a philosophical attitude rather than any kind of physical environment or location.
HOW DID I GET HERE?
BIO TL:DR
BORN: LONDON, 1966. GEN X.
FORMAL ART EDUCATION: NONE (DESELECTED FROM O-LEVEL ART).
CONCEPTUAL ART | PROCESS & EFFECT
THEMES & CONCEPTS
My work generally falls into two areas: Conceptual and Process
The conceptual work is an examination of subjective paradoxes, anomalies, and inconsistencies that are representative of observed broader objective phenomena. The works are organised into specific projects with a clear set of themes - such as The NO$TALGIA SHOW - an exploration of transience, obsolescence, transformation and the extended social, cultural, political and climactic effects of halcyonism..
The process work is concerned with experimenting across the threshold between Sound & Vision sensory perception via a series of custom transformations known collectively as "FEEDBACK LOOPS".
The MUSIC GRAFFITI paintings are the 'genesis node' in what is a recursive and ongoing series.
SENSORY FORMS
DIGITAL, PHYSICAL, AR
The output from both strands straddles physical and digital art, and is often a hybrid of both. Disciplines include painting, remodelling, multi-media installation, digital manipulation, photography, video production, and sound production.
Digital collages of physical items and installations are often the departure point.
(Still frame image from the digital artwork OZYMANDIAS Redux. Appreciate that this can all be done with AI now, but that's not really the point is it...)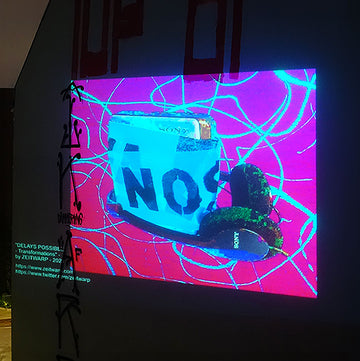 PHYSICAL | DIGITAL | VIRTUAL
EXHIBIT "A"
A wide range of Zeitwarp art has been exhibited internationally in physical, digital, and hybrid 'phygital' forms.
Exhibitions range from physical paintings in a conventional gallery environment to Sound & Vision audiovisual installations in the metaverse.