ART FURNITURE | DESIGN INSTALLATION ARTWORKS
OFF BEATS
"Just what is it that makes today's homes so different, so appealing?"
Richard Hamilton
CONCEPTUAL ART FURNITURE
RE-MAKE / RE-MODEL
Off-Beats is a series of music themed one-off 'Re-Make / Re-Model' design projects.
Sometimes there is an artistic theme to the work, such as the Ozymandias Box-Set, which is a commentary on both nostalgia and obsolescence. More often than not it's just a case of re-purposing something discarded or downtrodden for a new purpose., or indulging an idea that I've had for my own interest and/pr amusement.
These items are generally not available to purchase or order. (Occasionally something is created for a commission.)
RANDOM ABSTRACTIONS
POLLOCK FOR DINNER?
Pollock for Dinner? is a Re-Make / Re-Model dining room table homage to the large scale Jackson Pollock drip paintings of the post-war Abstract Expressionist era.
The original table was damaged in a number of places, and had various patches of worn veneer. It was sanded down and repainted with recycled black gloss paint.
On top of this a large abstract pattern of continuous drips, lines and swirls was created using recycled white gloss paint. The surface of all four sections was then sealed with high gloss resin.
Pollock was a defining teenage inspiration at a time when a school art education valued representational skill only.
It's also a type of fish.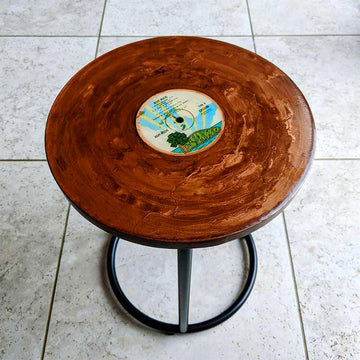 RE-MAKE / RE-MODEL
THE ROXY TABLE
'The Roxy Table' came about as a consequence of being gifted an unplayable copy of the eponymous debut Roxy Music LP - the original 1972 UK release sans Virginia Plain.
"Re-Make / Re-Model" is not only one of the greatest tracks ever released, it is also the guiding mantra at the heart of the Off Beats furniture art recycling project.
Beyond that, it represents a juxtaposition and/or fusion of the conceptual ideas within the NOSTALGIA SHOW with Richard Hamilton's piece for This is Tomorrow.
Hamilton was of course a guiding force for the embryonic Roxy Music, so - yeah - it could have been sold on Discogs...but this felt like a much better use
Recyled copper metallic paint (Pantone: CPL 593H) with a clear high gloss resin finish