TIME-LIMITED DROPS OF ORIGINAL PAINTINGS & LTD EDITION GICLÉE PRINTS
NEW ART FRIDAYS
"DON'T YOU WONDER SOMETIMES…ABOUT SOUND AND VISION?"
'Sound & Vision' - David BOWIE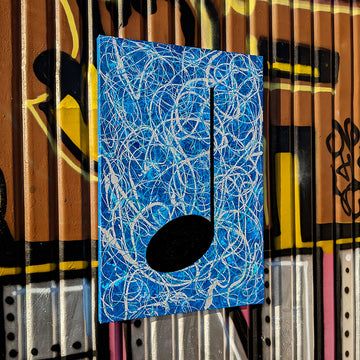 MUSIC GRAFFITI ART DROPS
WHAT ARE NEW ART FRIDAYS?
Only 12 MUSIC GRAFFITI paintings are produced each calendar year, and only 4 of these are available to collect directly from the Zeitwarp HYPERMARKET.
One new original painting is released for collection on the third Friday of March, June, September, and November.
A limited edition print run of just 24 fine art giclée prints of those paintings drops exactly one week later on the fourth Friday of the same month.
The prints are hand-signed and come with a certificate of authenticity.
Both the painting and the prints are available on a first come first served basis. Join the NEW ART FRIDAYS newsletter to get previews, updates and early pre-drop access.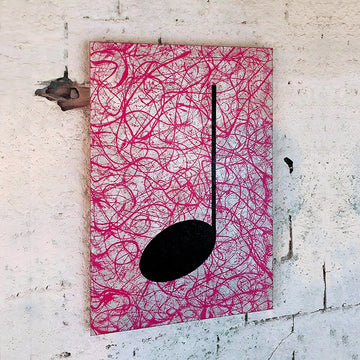 NEW ART FRIDAYS
HOW DOES IT WORK?
24 hours before each month's drops, both the original painting and the giclée print listings will go live for preview in the HYPERMARKET.
All information on that drop will be available - including the digital FRACTAL/FRACTURED GROOVE audiovisual remix that can be activated in augmented reality.
Links to the preview pages will be posted on the homepage, and on social media. However, at this point they cannot be purchased/collected.
At 1pm UK time on both drop dates, that month's releases will go live. For the first hour only access is restricted by password to whitelisted email addresses from the NEW ART FRIDAYS newsletter. (You can apply for access on this page by signing up.)
A countdown timer will indicate the time left until the collection window closes. For the original MUSIC GRAFFITI paintings this will be a 67 hour countdown until midnight on Sunday following the drop. For the limited edition giclée prints, the deadline for collection will be exactly seven days from the drop date.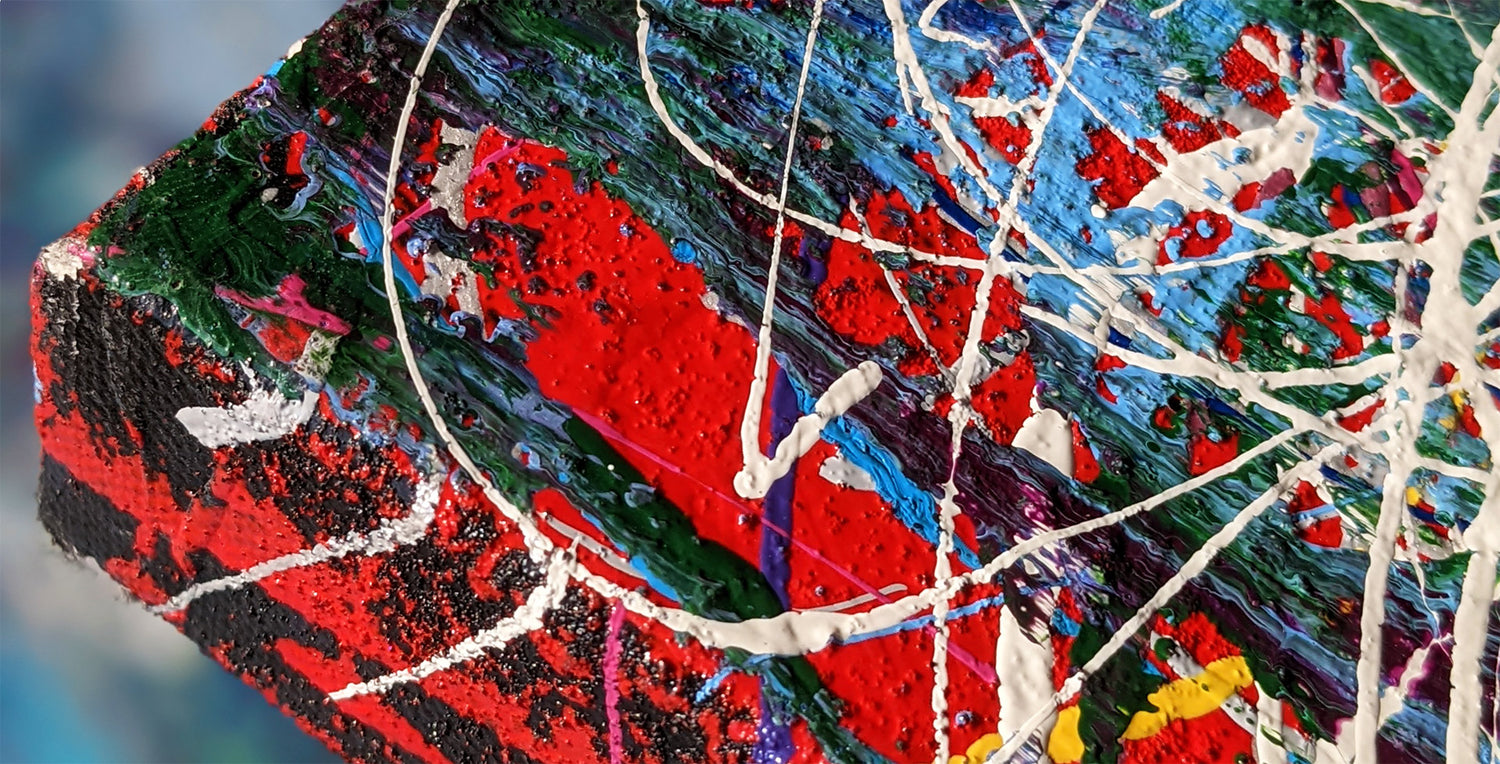 Next MUSIC GRAFFITI Original Painting Art Drop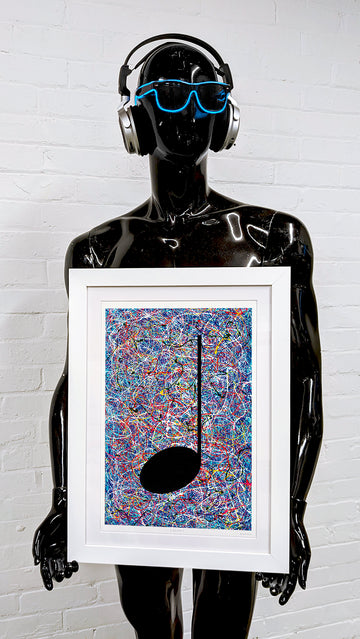 FINE ART GICLÉE PRINTS
LIMITED EDITIONS OF YOU
Fine art museum quality giclée prints of the MUSIC GRAFFITI paintings are released in limited editions of 24 per original painting.
Printing is undertaken by a specialist professional print lab using archival ink on specialist Hahnemühle German Etching 310gsm fine art paper.
Each print is physically signed and comes with both a Certificate of Authenticity and an artist statement explaining more about the individual artwork and its place within the MUSIC GRAFFITI concept.
The drop is time-limited and the prints are only available for collection for seven days from the drop date.
Once the drop window closes, the print is withdrawn and retired from collection.
MUSIC GRAFFITI | GICLÉE PRINTS
TEXTURE RELIEF
The giclée process produces the highest quality reproduction of the original image with archival longevity.
Texture is a key component of the original paintings. The layers of paint and architectural / masonry elements produces a tactile three dimensional surface that adds a further layer to the visual sonic schema. The use of giclée methodology and textured fine art paper produces a depth to the printed image to emulate the originals.
As with the original paintings, the prints can be activated in augmented reality to display the accompanying digital audiovisual artwork.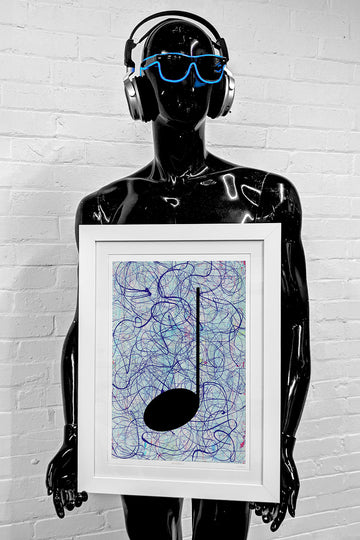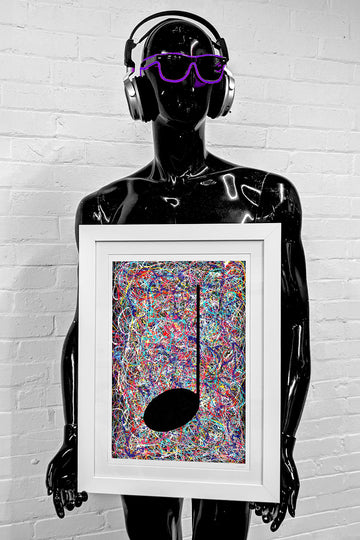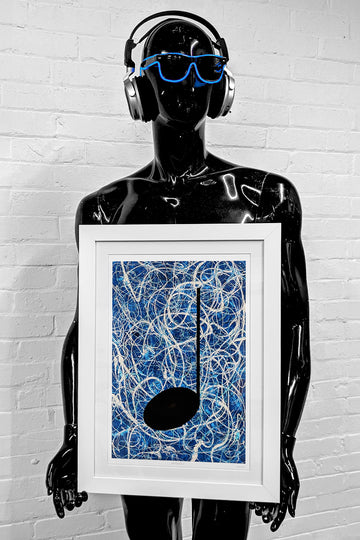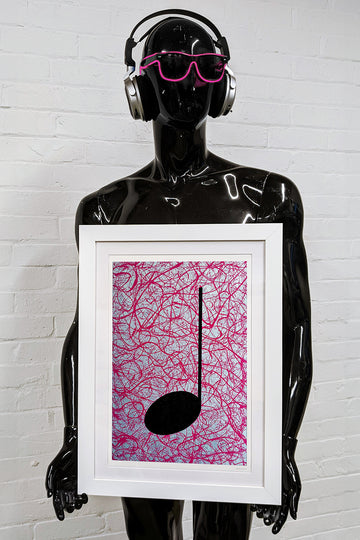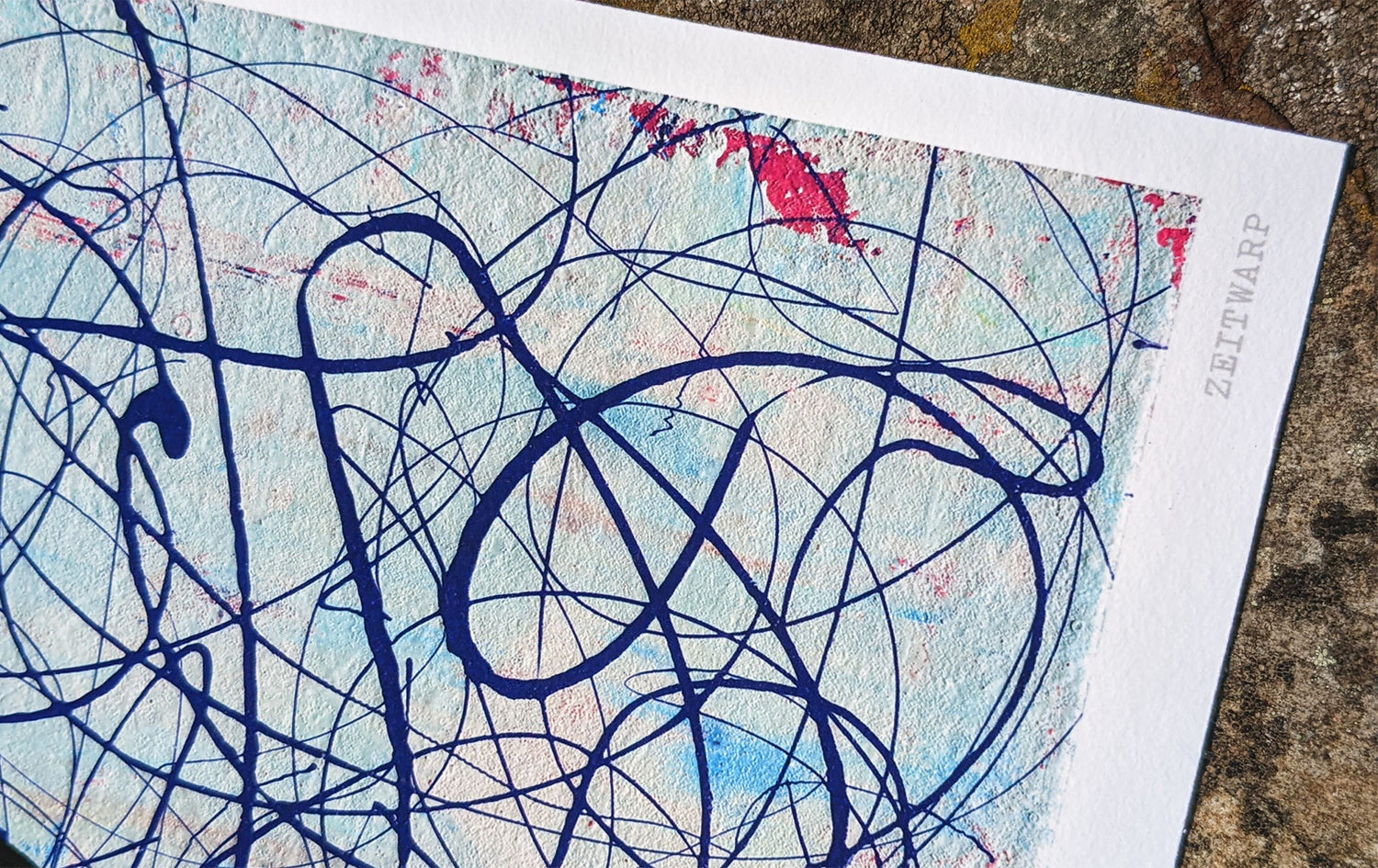 Next MUSIC GRAFFITI Limited Edition Giclée Print Art Drop
DON'T WANT TO WAIT?
"Unlimited edition...With an unlimited supply" - E.M.I. Sex Pistols
A selection of Open Reel MUSIC GRAFFITI images are available to collect now from the HYPERMARKET as either 310gsm fine art quality giclée prints or as 250gsm designer art prints in a choice of sizes.
The 'Open Reels' images are taken from a series of MUSIC GRAFFITI paintings that have never been released as a limited edition print.
The Open Reel giclée editions are printed using the same high quality process and materials as the limited edition fine art MUSIC GRAFFITI giclée prints. They are available in a choice of sizes either individually or as a discounted Box-Set collection.